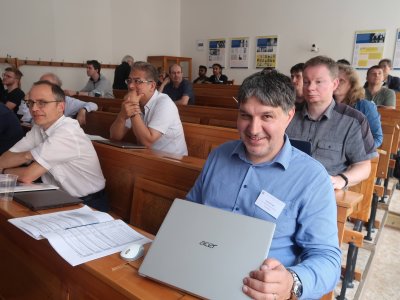 On 15/6-18/6, we organized the 14th annual conference Prague Colloquium on f-Electron Systems (PCFES)
Since 1992, the Prague colloquium on f-electron systems has been one of rather small but significant meetings on the scene of scientific conferences and workshops, enabling intensive interaction between participants, including a considerable number of students and post-docs.
After a break necessitated by the covid pandemic, when the colloquium had been held online from Cracow, Poland, the conference returned to the premises of the Faculty of Mathematics and Physics of Charles University.
The participants comprised  colleagues interested in the physics of lanthanides and actinides, from many countries around the world, from Canada and Argentina to Japan. Among the diverse topics, the unconventional superconductivity of the compound UTe2, discovered in 2019, and the properties of other uranium tellurides dominated. The extreme resistance to magnetic field and the existence of several separate superconducting phases promises to shed new light on the very principles of superconductivity.
The colloquium is known among our colleagues as a conference with a very friendly atmosphere and a large number of non-scientific activities. Each day is traditionally crowned with a social-scientific meeting, such as a welcome party, a poster show with refreshments, or a barbecue party in the garden gazebo, only slightly sprinkled with raindrops.
This year's program was enriched with lectures by Israeli colleagues on the topic of using 3D printing of metal materials in biomedicine.
During free time, L. Havela from the Department of Condensed Matter Physics showed some conference participants around the department laboratories. They could thus learn more about what kind of cooperation we could establish, not only in the area of compounds with f-electrons.
You can see the photos in the gallery below.
We are all already looking forward to the next Prague colloquium, which will take place in 2025.